Trastornos del equilibrio ácido-básico
Citas
1. O'Shaughnessy WB. Experiments on the blood in cholera. Lancet. 1831-32;I:490.

2. Stadelman E. Ueber die ursache der pathologische amoniakaus- scheidung diabetes mellitus und des coma diabeticum. Arch. Exp. Path. Pharm. 1833;42:149.

3. Winters R. Visión histórica del campo ácido básico. En: Winters R, editor. Líquidos orgánicos en pediatría. España: Elisien; 1978.p.3-19.

4. Velásque z-Jones L. Alteraciones hidroelectroliticas y ácido-base. Acidosis metabólica. Bol Med Hosp Inf Mex. 1990;47(3):186-96.

5. Arruda JA, Kniaz D, Talor Z. Disorders of acid-base physiology. Curr. Nephr. 1989;12:135.

6. Bidani A. Electrolyte and acid-base disorders. Med Clin North Am. 1986;70(5):1013-36.

7. Brunow de Carvalho W. Metabolismo ácido-básico. En: Brunow de Carvalho W, editor. Manual de Terapia Intensiva Pediatrica. Brasil:Atheneu; 1993.p.396-410.

8. Clark WM. The Determination of Hydrogen Ions. Baltimore: Williams & Wilkins; 1920.

9. Riverón CR, Mena MV. Desequilibrio hidroelectrolítico y acido-base en la diarrea. Rev Cubana Pediatr. 2000;72(3):170-82.

10. Ichikawa I, Narins R, Harris W. Alteraciones ácido-base. En: Ichikawa I, editor. Tratado de líquidos y electrólitos en pediatría: Intermédica; 1992.p.207-41.

11. Adrogué H, Madias N. Management of life. Threatening acid-base disorders. N. England J. Med. 1998;338(1):26-34.

12. Pires A. Disturbios ácido-básicos. En: VI Congresso Brasileir o de Terapia Intensiva Pediátrica. Curso de revisao e actualizaçao em Terapia Intensiva Pediátrica. Brasil: Interlivros; 1996.p.105-107.

13. Sladen A. Balance ácido-básico. En: Mcintyr e K, Lewis J, editores. Texto de Cuidados Avanzados de Resucitación. Dallas: American Heart Association; 1983.p.1-11.

14. Taylor Lake D. Acidosis y alcalosis metabólica. Nursing. 1991:44-47.

15. Goodkin DA, Krishna GG, Narins RG. T he role of the anion gap in detecting and managing mixed metabolic acid-base disorders. Clin endocrinol Metab. 1984;13:333.

16. Shapiro BA. Clinical application of blood gases. Chigago: Year book medical; 1973.

17. Brewer E. Trastornos del equilibrio ácido básico. Pediatr Clin North Am. 1990;2:453-475.

18. Taylor Lake D. Acidosis y alcalosi s respiratoria. Nursing.1991:32-35.

19. Zaritsky A. Cardiopulmonary Resuscitation. In: Green T, Weigle C (eds). Current concepts in pediatric critical care - 1995. Anaheim , Society of Critical Care Medicine; 1995.p.33-50.

20. Weil M, Rackow E, Trevino R. Difference in acid-base state between venous and arterial blood during cardiopulmonary resuscitation. N. England J. Med.1986;315:153-56.

21. Sivan Y, Newth JL. Monitoring and assessment of the pulmonary function in ventilated infants and children. En: Tibboel D, Van der Voort E, editores. Intensive care in childhood. A challenge to future. 2nd.ed. Berlin ;Springer; 1996.p.413-438.

22. Luft WC, Loeppy JA, Mostyn DM. Mean Alveolar gases and alveolar-arterial gradients in pulmonary patients. J Appl Physiol. 1979;46:534-40.

23. Zaritsky A. Resuscitation pharmacology. En: Chernow B, editor. The Pharmacologic Approach to the Critically Ill Patient. 3 ed. Baltimore: Williams & Wilkins. 1994.p.233.

24. Griffel M, Kaufman B. Pharmacology of colloids and crystalloids. Crit Care Clin. 1992;8(2):235-253.

25. Kallen R. Trastornos del equilibrio ácido básico. Pediatr Clin North Am. 1990;2:263-288.

26. Michel-Behnke Y, Schnittker C, Schmid FX, Wipperman CF, Thul J, Huth RG, et al. Metabolic alkalosis in children following cardiac surgery with cardiopulmonary bypass. Int Care Med. 1996:233.

27. Bjerneroth G, Sammeli O, Wiklund L. Effect of alkaline buffers on citoplasmic pH. Critical Care Med.1994;22(10):1555-556.

28. Hirschheimer M, Kuperman H; Alteracoes do equilibrio hidro-electrolitico e ácido-básico na ventilacao pulmonar mecanica. En: Brunow de Carvalho, W, editor. Ventilacao pulmonar mecánica em pediatría. Brasil: Atheneu; 1993.p.199-209.

29. Castro Sánchez, A. Acidosis metabólica grave. En: Asociación Mexicana de Pediatría. Temas de pediatría. México:Mc Graw-Hill Interamericana; 1998.p.305-314.

30. Ruza F. Fisiología aplicada del medio interno (agua y electrolitos). En: Ruza F, editor. Tratado de Cuidados Intensivos Pediátrico. 3ra ed. Madrid: Ediciones Norma; 2003.p.1020-1033.

31. Fanconi S, Doherty P, Edmonds JF, Barker GA, Bohn DJ. Pulse oximetry in pediatric intens ive care: Comparison wit h measured saturations and transcutaneous tension. J Pediatric. 1985;107(3):362-66.

32. Aoki B, McCloskey B. Priciples of stabilization. En: Aoki B, editor. Evaluation, stabilization, and transport of the critically Ill Child. St. Louis: Mosby Yearbook; 1992.p.1-16.

33. Narins RG, Cohen JJ. Bicarbonate therapy for organic acidosis. The case for its continued use. Ann Intern Med. 1987;106(4):615-18.

34. Mizock BA, Falk JL. Lactic acidosis in critical illness. Crit Care Med. 1992;20(1):80-93.

35. Leung J, Landow L, Franks M, Soja-Strzepa D, Heard S, Arieff A, Mangano D. Safety and efficacy of intravenous Carbicarb in patients undergoing surgery: Comparison with sodium bicarbonate in the treatment of mild metabolic acidosis. Critical Care Med.1994;22(10):1540-549.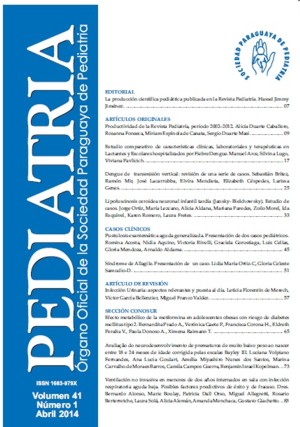 Descargas
Cómo citar
Doldán Pérez, O. (2018). Trastornos del equilibrio ácido-básico. Pediatría (Asunción), 33(1), 32-41. Recuperado a partir de https://www.revistaspp.org/index.php/pediatria/article/view/311
Sección
Artículos de Revisión