Guía para uso apropiado de componentes sanguíneos en pacientes pediátricos
Citas
1. Guidelines for transfusion of erythrocytes to neonates and premature infants: Fetus and Newborn Committee, Canadian Paediatric Society. CMAJ. 1992;147(12):1781-92.

2. O'Shaughnessy DF, Atterbury C, Bolton Maggs P, Murphy M, Thomas D, Yates S, et al. Guidelines for the use of fresh-frozen plasma, cryoprecipitate and cryosupernatant. Br J Haematol. 2004;126(1):11- 28.

3. British Committee for Standards in Haematology, Blood Transfusion Task Force. Guidelines for the use of platelet transfusions. Br J Haematol. 2003;122(1):10-23.

4. Hospital de Pediatría Prof. Dr. J. P. Garrahan. Servicio de Hemoterapia. Comité de Transfusión. Criterios para el uso de Concentrados Plaquetarios (CP). Buenos Aires: Hospital de Pediatría Prof. Dr. J. P.Garrahan; 2006.

5. Maier RF, Sonntag JS, Walka MM, Liu G, Metze BC, Obladen M. Changing practices of red blood cell transfusions in infants with birth weights less than 1000 g. J Pediatr. 2000;136:220-24.

6. Lin Y, Foltz L. Proposed Guidelines for Platelet Transfusion. BC Medical Journal. 2005;47(5):245-48.

7. University of Washington. Department of Neonatology. Transfusion Guidelines. Washington: University of Washington; 1999.

8. LSUHSC-S Medical Library [Base de Datos en Internet]. Transfusion reference guidelines: guidelines for the transfusion of blood products; 2003. Disponible en: http://lib-sh.lsuhsc.edu/

9. American Association of Blood Banks (AABB). Blood Transfusion Therapy: a physician's handbook.7th ed. U.S.: AABB; 2002.

10. Rebulla P. Revisitation of the clinical indications for the transfusion of platelet concentrates. Rev Clin Exp Hematol. 2001;5(3):288-310.

11. Strauss RG. Prácticas de transfusión de eritrocitos en Recién Nacidos. Clínicas de Perinatología. 1995;32:601-15.

12. Ohls RK. Uso de eritropoyetina en recién nacidos. Clínicas de Perinatología. 2000;3:687-704.

13. Meyer MP, Sharman E, Carsons M. Recombinant erythropoietin and blood transfusion in seleed preterm infants. Ach Dis Child Fetal Neonatal Ed. 2003;88:F41-F45.

14. Ohls RK, Harcum J, Schibler KR. The effect of erythropoietin on the transfusion requeriments of preterm infants weighing 750 g or less: a randomized, double-blind, placebo-controlled study. J Pediatrics. 1997;131:661-65.

15. Diez Lobo AI. Medicina Transfusional Perioperatoria, Servicio de Anestesiología y Reanimación, Hospital General de Segovia. Madrid: Ergon; 2005.

16. Organización Panamericana de la Salud. Estándares de Trabajo para Servicios de Sangre. Washington: OPS; 2005.

17. Madero L. Manual de Hematología Pediátrica. Madrid: Ergon; 2006.

18. World Health Organization. The clinical use of blood. Handbook. Ginebra: WHO; 2003.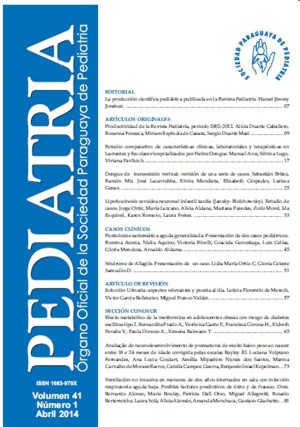 Descargas
Cómo citar
Jiménez de Samudio, A., Gini, S., Echeverría, O., & Lemir de Zelada, M. O. (2018). Guía para uso apropiado de componentes sanguíneos en pacientes pediátricos. Pediatría (Asunción), 34(1), 46-68. Recuperado a partir de https://www.revistaspp.org/index.php/pediatria/article/view/321